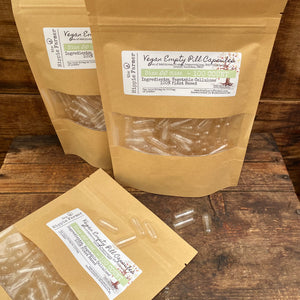 100% vegan capsules for the encapsulation of your favorite herbal powders and other preparations.
Certified Kosher & Halal
NO Animal derived ingredients starch

NO Preservatives

NO Additives

NO GLUTEN

NO GMO

NO BSE/TSE

NO Sodium Lauryn Sulfates
FAST DISSOLVING and easily digestible. NOT for encapsulating liquids.
INGREDIENTS: Vegetable Cellulose, 100% Plant Based
"00" which holds between 500-1100 milligrams of dried material. This of course will depend on the density of the material being used.