From Our Farm to Your Home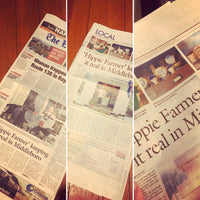 Featured in the Enterprise!
We were just featured in the Enterprise this Holiday Season. Find out more about how the Hippie Farmer was created and where your handmade products are made. 

Read About it Here!
Location
Barn Store & Farm Stand
Both Located at 141 Purchase St. Middleboro, MA

Barn Store Hours:
Open Saturdays 10am - 4pm
And
Wednesdays 12pm - 5pm

Farm Stand Hours:
Mon - Fri, 9am - 7pm
Saturday, 10am - 7pm
Sunday, 10am - 5pm
We are currently ONLY open for Online Pick Up of Orders and Self Serve Sales of Raw Milk/Eggs/Veggies. We do not have any products in the stand !!