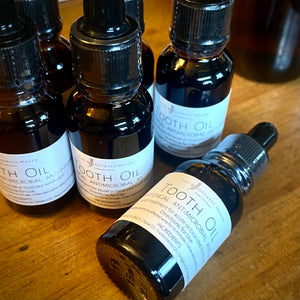 ANALGESIC - ANTIFUNGAL - ANTIMICROBIAL
Spot treatment for acute or localized tooth pain.
0.5oz amber glass dropper bottle
Handmade by an Herbal Apothecary
Directions for use: Soak a cotton ball in tooth oil and apply directly to affected area for 10 minutes. Follow application with oil pulling formula for best results.
Ingredients: Neem Oil, Fractionated Coconut Oil (MCT), Clove Oil, Frankincense Oil, Oregano Oil, Peppermint Oil, Cinnamon Cassia Oil
Made by The Wilderness Maven
RECIPROCAL HEALING
Medicine is seasonal. Medicine is local. Medicine is a whole, not a part.
Everything made at The Wilderness Maven Herbal Apothecary has its origin in soil + sunlight, and is rooted in the belief that if we steward our land well — nourish, feed, respect, and recognize her for the living being she is — we all live more vibrantly. Earth medicine is ancient, powerful, and capable. Plants are medicine of the people. To ensure the future of plant medicine, we must approach each seed, each tree, each blade of grass, as sacred. We must not take, but give. Reciprocity means that we do not take from the land, but we are given these plants as a gift for our kinship with her, our protection of her, our partnership with her, and our gratitude for her. We believe what we give to the land she gives back to us.