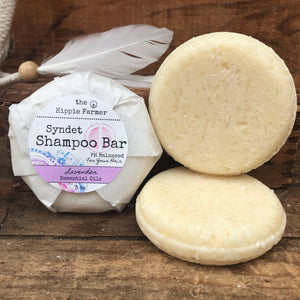 Treat your hair to a PH balanced shampoo bar. Replace your plastic bottles in your shower with a plastic free option. These small bars do last a long time in the shower! You will be amazingly surprised.
What makes a syndet bar? Well a syndet bar is very different then a cold process soap bar. They have a neutral to a slightly acidic PH. While they are not a soap bar, they are a synthetic detergent bar that still have cleansing agents.
These bars are great for color treated hair so that there is no stripping of the hair or color. The silk protein in this bar is wonderful for improving elasticity, resiliency and restore the moisture in your hair to make it smoother and softer.
Lavender Essential Oil - has been found to help speed up hair growth in one study. It is also a wonderfully calming essential oil.
Each bar is handmade in small batches.
3 oz bar
Plastic Free Packaging
Keep each bar out of the direct water to let it dry out for longest use.
How to use: Wet bar and rub directly over hair follicles to produce a luscious lather. Rinse. And follow with desired conditioner if needed.
Ingredients: Sodium Cocoyl Isethionate, Sodium Coco Sulfate, BTMS-50, Cetyl Alcohol, *Cocoa Butter, Silk Protein, Cocamidopropyl Betain, Optiphen, & Essential Oils