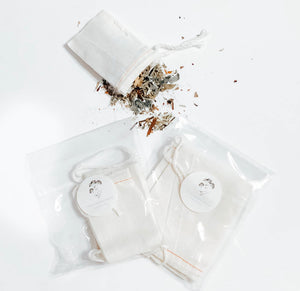 These tea bags are a great way to cut down on cost and waste when brewing loose leaf teas at home. The bags are perfect for a cup of tea and are great way to brew any one of our Apothecary Loose Leaf Teas, making cleanup a breeze.
EASY CLEANING!
Each pack contains 2 Large Bags 3" x 4" 
100% Cotton
Care: Turn inside out after use and empty contents into compost bin. Hand Wash with warm soap and water. Air dry.
Made by The Wilderness Maven
RECIPROCAL HEALING
Medicine is seasonal. Medicine is local. Medicine is a whole, not a part.
Everything made at The Wilderness Maven Herbal Apothecary has its origin in soil + sunlight, and is rooted in the belief that if we steward our land well — nourish, feed, respect, and recognize her for the living being she is — we all live more vibrantly. Earth medicine is ancient, powerful, and capable. Plants are medicine of the people. To ensure the future of plant medicine, we must approach each seed, each tree, each blade of grass, as sacred. We must not take, but give. Reciprocity means that we do not take from the land, but we are given these plants as a gift for our kinship with her, our protection of her, our partnership with her, and our gratitude for her. We believe what we give to the land she gives back to us.