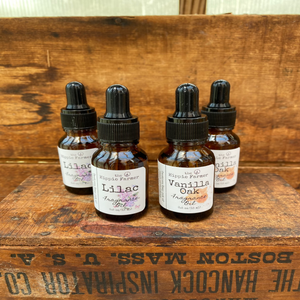 These little bottles of fragrance oils work wonderful for the wool dryer balls in your laundry room! OR for your general use.
0.5 oz (15ml) glass dropper bottle
High quality fragrances that are Phthalate Free!
DO NOT use directly on skin. This is a non diluted fragrance oil. You can dilute properly to be able to used for other things. 15 drops to 1oz of carrier oil. 
How to use: Use 2-5 drops on wool ball(s), wait a minute or two and then place balls in dryer.
Please know Fragrance Oils are NOT Essential Oils.  
**CAUTION: Keep out of reach of children and pets. Avoid skin contact. Dilute properly if using on skin or for uses other then wool balls. NOT for internal use.