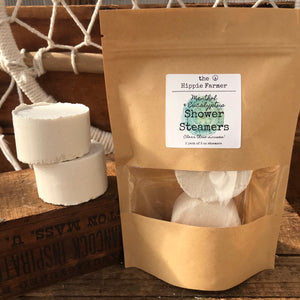 Take a shower you dirty hippie!! Grab some of these amazing menthol and eucalyptus steamers for your morning or evening showers. 


Each bag contains TWO steamers (approx 3oz each) 
All handmade with natural ingredients 
Steamers can last a few showers. 
Ages 10+ 
Will not ruin showers or septic. 
How to use: Place steamer on the floor of your shower in a corner that is out of the direct stream of water. As little bits of water hits the steamer, it releases the aromatherapy of the menthol & eucalyptus little by little. 


Ingredients: Sodium Bicarbonate, Citric Acid, Clay, Menthol, Essential Oil, & Isopropyl Alcohol