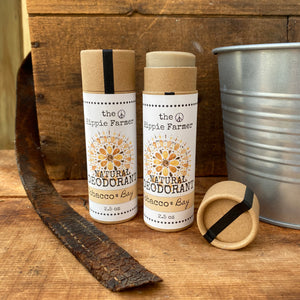 Get away from using aluminum in your deodorants! Did you know aluminum can cause cancer?
Once you try this deodorant you will be very happy to finally find something natural that works. It is also great for sensitive skin who tends to break out due to other deodorants with baking soda in them.
Aluminum Free & Baking Soda Free
Recycled Kraft Tubes (NO plastic!) 2.5 oz Push Bottom
A nice lotion stick that is not hard.
All natural ingredients!
Handmade on the farm. 
Ingredients: *Coconut Oil, *Shea Butter, Grapeseed Oil, *Beeswax, Arrowroot Powder, Diatomaceous Earth, Non GMO Vitamin E Oil, & Phthalate Free Fragrance