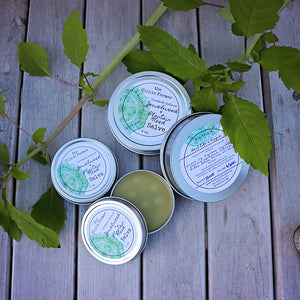 Last batch of 2oz until Spring/Summer 2022 when the Jewelweed. 

Treat your skin this summer with this handmade infused natural salve. We grow a lot of jewelweed and plantain weed on our property that grows from spring through fall. This salve is only made a couple times a year because of the growing season. Customers have used it for poison ivy, dry skin, eczema, psoriasis, burns, bug bites and more!
How to use: Apply several times a day to areas of concern.
Handmade in small batches.
Easy to use 2 oz or 4 oz tin.
All hand picked and infused ingredients.
Ingredients: Infused *Olive Oil (Jewelweed & Plantain weed), *Coconut Oil, Beeswax & Essential Oils (*Lavender, *Tea Tree & Rosemary)


*Organic Ingredient
 *Not FDA Approved. 

 Disclaimer: The content and products are not intended to be a substitute for professional medical advice, diagnosis, or treatment. Always seek the advice of your physician or other qualified health provider with any questions you may have regarding a medical condition.