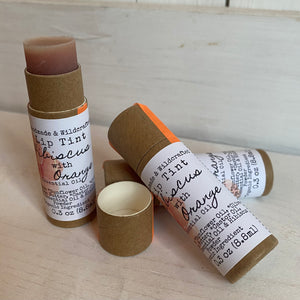 This lip balm is a light tint on your lips with organic Hibiscus Flower Powder!! Scented with Orange Essential Oil, this is a glossy style lip balm that you will fall in love with. Be kind to your lips.  
Wildcrafted & Handmade
Infused with Hibiscus Flower Powder
Orange Essential Oil
Organic Ingredients 
0.35 Tube
Each batch varies in shade. Made in small batches. Hand poured. 
Ingredients: *Sunflower Oil, *Olive Oil, *Shea Butter, *Castor Oil, Beeswax, *Hibiscus Flower Powder & Essential Oil

*Organic Ingredients 
*** Citrus essential oils can make skin more sensitive to prolonged sun exposure. We follow the IFRA safety guidelines and use all essential oils at safe levels for 'leave-on' skin preparations. Best to avoid sun exposure while using these products.
*** Natural powders can cause allergic irritation to some. Please discontinue use if this happens.