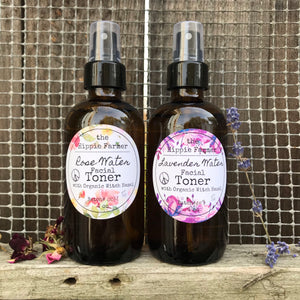 Before moisturizing and following your favorite facial cleansing bar, a face toner is a quick, absorbing liquid that helps to remove excess dirt, traces of oil and makeup, correct and balance the pH of your skin, and helps control acne. ... By helping to clean and close pores, it's especially beneficial for acne-prone skin. 
A toner can help close pores and tighten cell gaps after cleansing, reducing the penetration of impurities and environmental contaminants into the skin. It can even protect and remove chlorine and minerals present in tap water.
These facial toners come in two botanical waters, Lavender or Rose and are mixed with Organic Witch Hazel. 


4oz Glass Amber Spray Bottle 
A wonderful add to your skin regimen with our facial soap bars & facial oil. 
Aromatherapy with every spray. 
Also wonderful as a setting spray after applying makeup. 
Ingredients: Rose Water or Lavender Water & Organic Witch Hazel