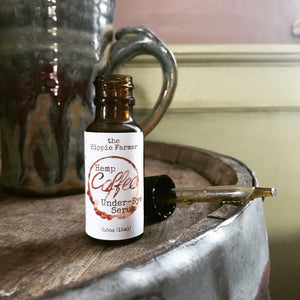 Wake up your eyes with this caffeinated under-eye serum!
Caffeine is known for reducing puffiness and attacking those dark circles under the eyes. It helps to stimulate blood flow which can help diminish things like cellulite, fine lines, and acne. Frankincense essential oil is also known to help reduce age spots and tighten the skin.
All handmade in small batches to assure quality of each bottle.
Allow up to 2 weeks to start seeing results.
Keep bottle in fridge for cooling effect and to help reduce puffiness. 
Ingredients: Organic Fair Trade Coffee infused Hemp Oil, Jojoba Oil, Vitamin E Oil & Frankincense Essential Oils
 

 Disclaimer: The content and products are not intended to be a substitute for professional medical advice, diagnosis, or treatment. Always seek the advice of your physician or other qualified health provider with any questions you may have regarding a medical condition.