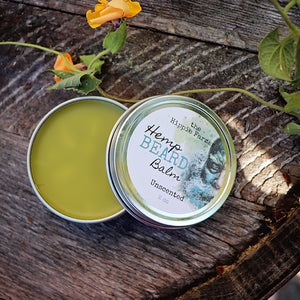 Nourish your beards with this amazing all natural hemp beard balm. Hemp oil is wonderful for drying skin & hair without clogging any pores. It is great for any skin type!
How to use: Put a small amount of balm on hands to warm it up. Rub balm through beard & on face.
2 oz tin
Handmade in small controlled batches. (Balm color may vary)
Organic Ingredients
Ingredients: *Hemp Oil, Beeswax, *Shea Butter, *Jojoba Oil & Vitamin E Oil.

*Organic
Disclaimer: All unscented products are made with the same equipment as scented products.  We do not have designated equipment for unscented items because we are too small of a business.