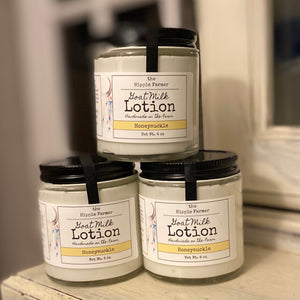 The florally scent of Honeysuckle is a must have in any skin ritual. 
Each bottle is filled with fresh goat milk right off our farm! The vitamins in the milk is great for any kind of skin.
All lotions are hand made in small batches for quality.
4 oz Glass Jar or 8oz BPA FREE Plastic Pump Bottle 
8 oz Glass Bottles are returnable to stand or markets for $1 return. 4oz Bottles for 0.50
Because fresh ingredients are used in every batch, this batch expires: 4/2024
Baby goat pictured is our little buck named Moo. He is our main buck and 4 years old now!! 
Ingredients: Goat Milk, Water, Sweet Almond Oil, *Avocado Oil, *Shea Butter, Emulsifying Vegetable Wax, Stearic Acid, Optiphen ND & Phthalate Free Fragrance Oil


*Organic
** Optiphen is a Phthalate and Formaldehyde FREE preservative to keep your lotion safe for your skin. Without this preservative, your lotion would not be good after 3 days. Learn more about this preservative HERE