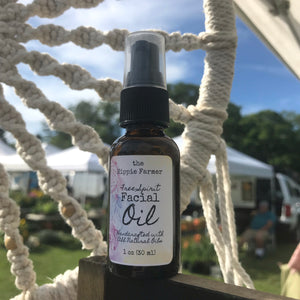 "A free spirit is just an old soul with all its karma paid... needing to prove nothing."
A wonderful mix of oils to benefit your skin. This blend of oils helps to moisturize the skin without clogging any pores.
Hemp oil is perfect for most skin types as it can moisturize without clogging your pores. It can even help to balance out oily skin, hydrating it and regulating the skin's oil production.
Avocado oil is a wonderful antimicrobial, antioxidant and anti-inflammatory skin care moisturizer. 
Sunflower oil has emollient properties that help the skin retain its moisture. Vitamin E helps trap moisture inside skin cells & keeping skin hydrated.
Jojoba oil is biomimetic, meaning it acts and functions just like our skin's own sebum, and this makes it an effective moisturizer that can help balance your own skin oils.
This facial oil is wonderful for all skin types.

Each bottle is hand mixed.

Locally sustainable ingredients.
How to use: Used after your favorite toner, use 1 to 2 pumps of the oil into your hand and rub into face/neck. Can be used up to two times a day. 
Ingredients: *Hemp Seed Oil, Avocado Oil, *Sunflower Oil, *Jojoba Oil & Essential Oil Blend (*Lavender, Frankincense, Geranium & Carrot Seed)
*Organic Ingredient